Khlong Lat Mayom: A Hidden Floating Market of Bangkok!
An Offbeat yet Amazing Floating Market of Bangkok
Far away from the Tourist Trails: Khlong Lat Mayom Floating Market, the Hidden Gem of Bangkok!
One cannot really visit Bangkok and claim to have lived the local way of Thai life without paying a mandatory visit to one of Bangkok's famous floating markets! Situated by the famous Chao Phraya river, Bangkok is a bustling city, a quintessential make of a waterborne economy. The happy families dining over a shared meal at the floating markets testify to this fact.
We wanted to experience a very real and local style of Thai life. We chose Khlong Lat Mayom Floating Market which is situated at the outskirts of the city. A quick BTS ride will bring you near the close vicinity of the market which remains unheard of to the maximum number of tourists!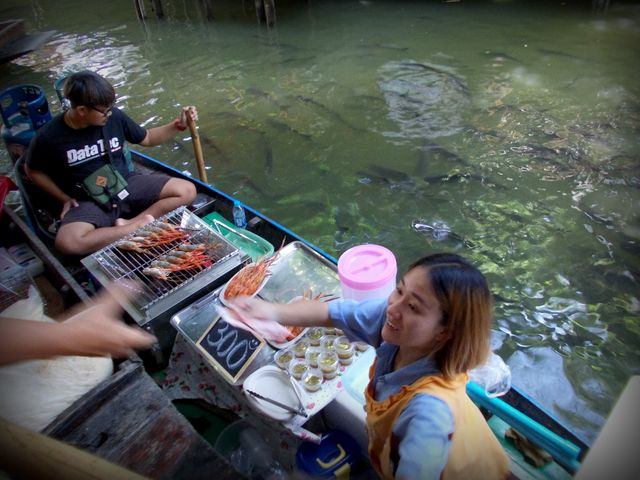 Khlong Lat Mayom Floating Market is a picturesque Thai Market situated by a small canal. Small snake boats float on the water, grilling fresh catch of the day. Fresh fruits are cut and green coconuts are stacked up at the street vendors to help thirsty tourists. Friendly locals welcomed us with a smiling face. The language barrier was soon overcome with cordial hospitality!
Women in traditional dress, "Chut Thai" were preparing taco shaped snacks!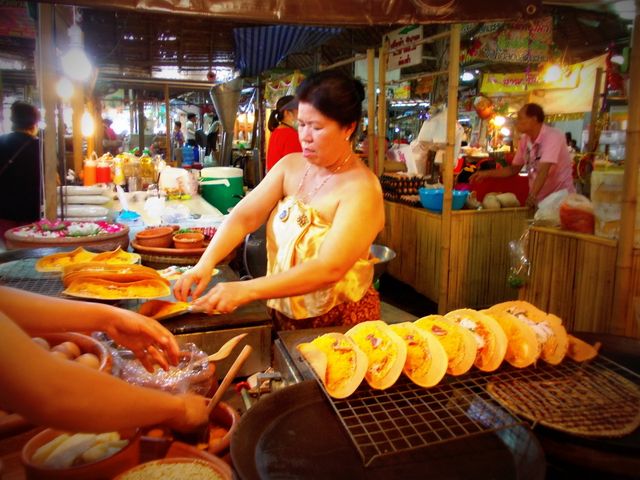 The market is tucked under the lush green canopy. As the day unfolded, small groups of local Thai families arrived. Dining out is a part of Thai culture. Children seemed to relish their meal which constituted of sticky rice, grilled vegetables, steamed rice and banana cakes in coconut leaves.
The aromatic Tom Yam soup, in my humble opinion, is almost a comfort meal infused with the goodness of gently balanced spice, coconut and prawns! Happy faces bond over a meal and spend quality time at the weekend market that Khlong Lat Mayom is!
A plethora of colourful boats congregates at one place, offering their varied products, starting from flowers to grilled lobsters right from the charcoal oven!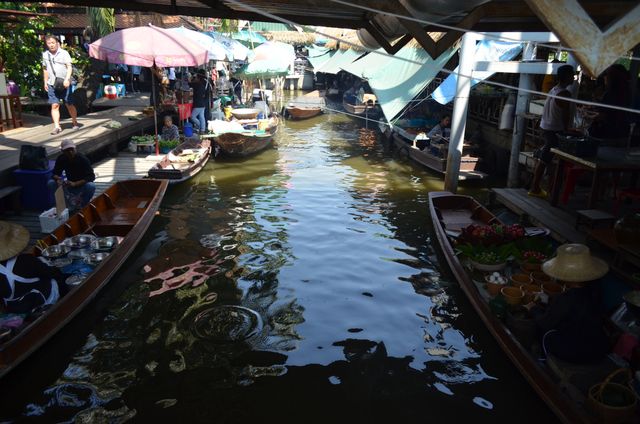 If you are lucky, you may even be invited to join one such family. Seeing me eating alone, an elderly grandma smiled a toothless smile and asked her grandsons to bring me to the table. She taught me the art of eating Miang Kham without creating a mess out of it! Upon learning I love prawns, she even wanted to share her own plate! Love finds a way to unite people together. Take a chance to tread on the road less travelled to find these little gems of human connect!
Needless to say, Khlong Lat Mayom Floating Market remains in a very happy place in my memory!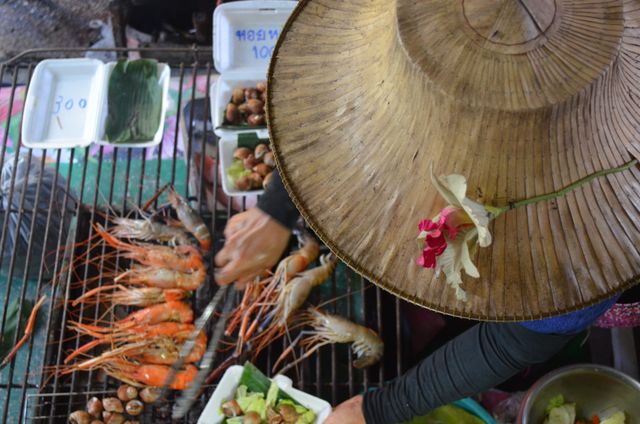 Since the market lies far away from the regular tourist trail, prices are very reasonable and transactions are amicable. This is a weekend market meaning you will have hard luck on weekdays to find the food stalls. The vendors selling clothes are likely to open their stall. however, a real Thai market must have its food in place, erm, on a warm grill!