Off the beaten track in Kanchanaburi, Thailand
Gosh, Thailand is amazing when you know where to look. Are you a FIT Traveller (Free Independent Traveller) who likes to explore the world with just your tribe? Do you like to escape and see the less crowded natural attractions?
If you're looking for all the zen calm you would expect in the Land of Smiles, then read on. Have I got the weekend for you.
Tempting hammocks at Jungle Raft Resort
Our weekend started as the early morning sunshine began to gather its strength in Bangkok. We hopped in the car for the three-hour drive through Kanchanaburi and onto the Hellfire Pass Memorial Museum. The Interpretive Centre, the locals call Chong Khao Kad, is a solemn, edifying experience.
Wandering the trail listening to the audio guide, the full horrors of war are recounted by Australian diggers who laboured and survived to build the Thai-Burma railway in World War Two. If you are lucky you will find yourself alone in the man-made cutting they called Hellfire Pass. Just you some pretty blue butterflies, the fluttering flags and the little birds singing.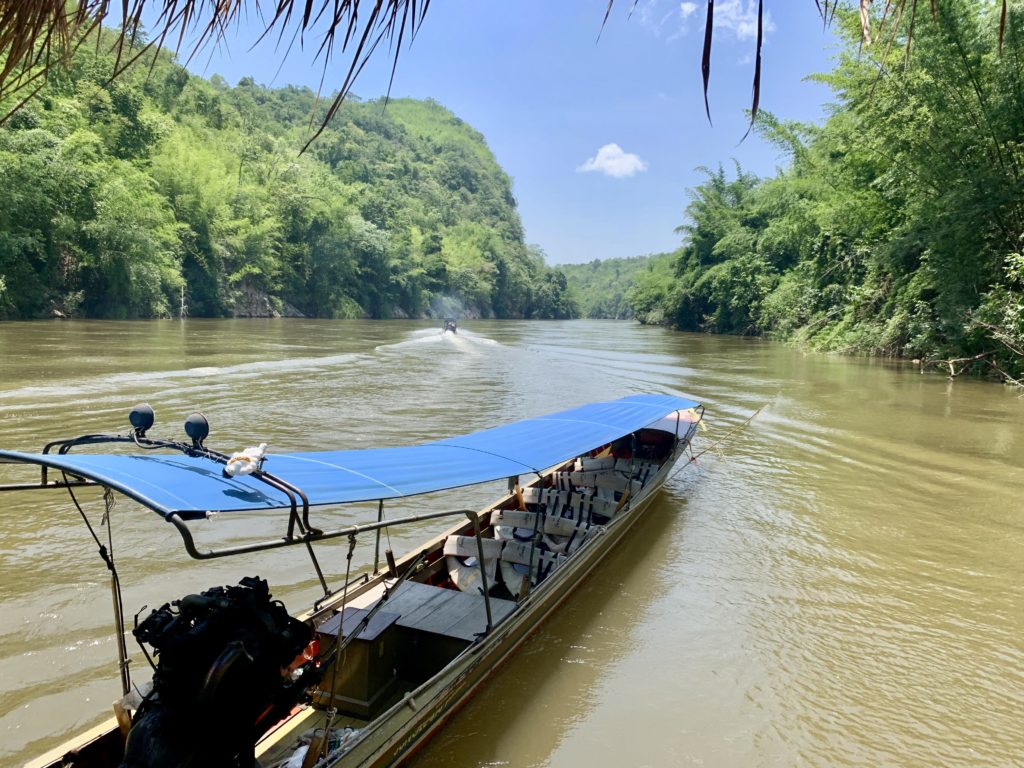 Long-tail boats at River Kwai Phutakien Pier
Our car finds the Phutakien Pier (Resotel pier) a twenty-minute drive away and we are whisked in a private long-tail boat, James Bond style towards The Float House. Our room is bright and cheery after the horrors of war. Exquisitely decorated, it's all polished floorboards with beautiful Thai furnishings and an inviting swing on the deck. Crisp white sheets greet you under the bamboo framed mosquito netting. Outside guests float past in the river. It is slightly surreal.
I am reminded of the children's nursery rhyme 'Row your boat':
gently down the stream, merrily, merrily, merrily, life is but a dream
I am in love with this setting on the River Kwai. Life is but a dream here and I need a sanctuary to process all we have witnessed.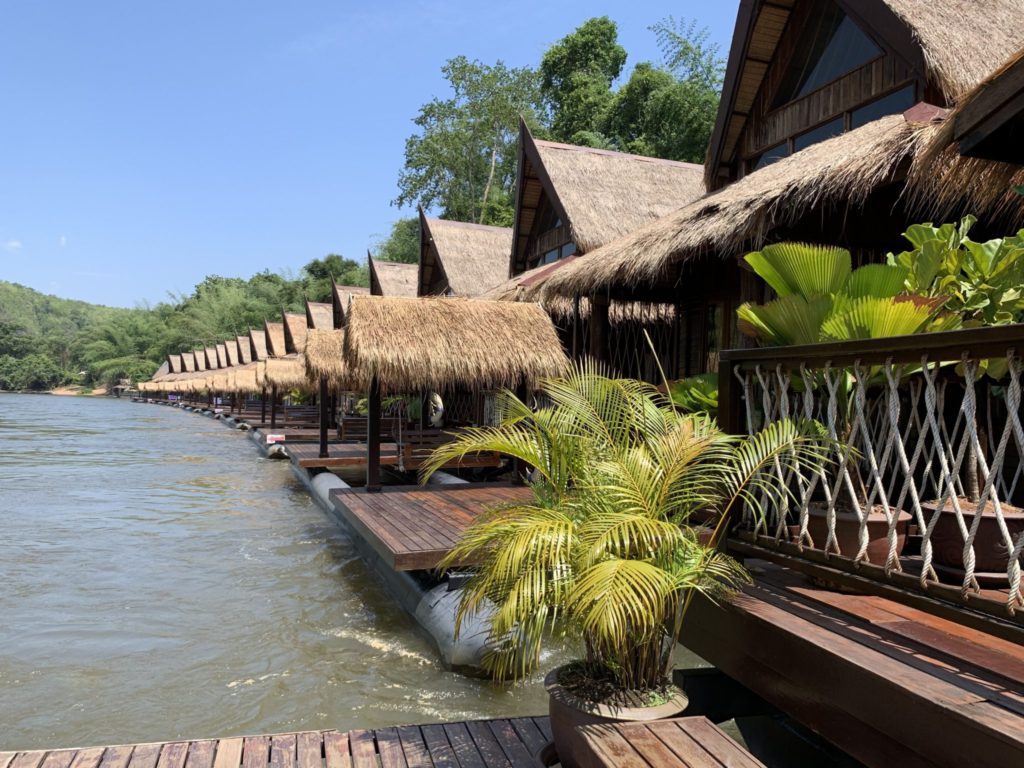 The Float House
The next morning another longtail boat whizzes us upstream to the River Kwai Jungle Raft hotel. Gotta love this form of travel, water splashing on both sides. We arrive with windswept hair and a big grin on our faces. Tempting rope hammocks sway gently in the breeze and adorn the decking outside each eco room.
You will not find WIFI or electricity here but some say you will find paradise.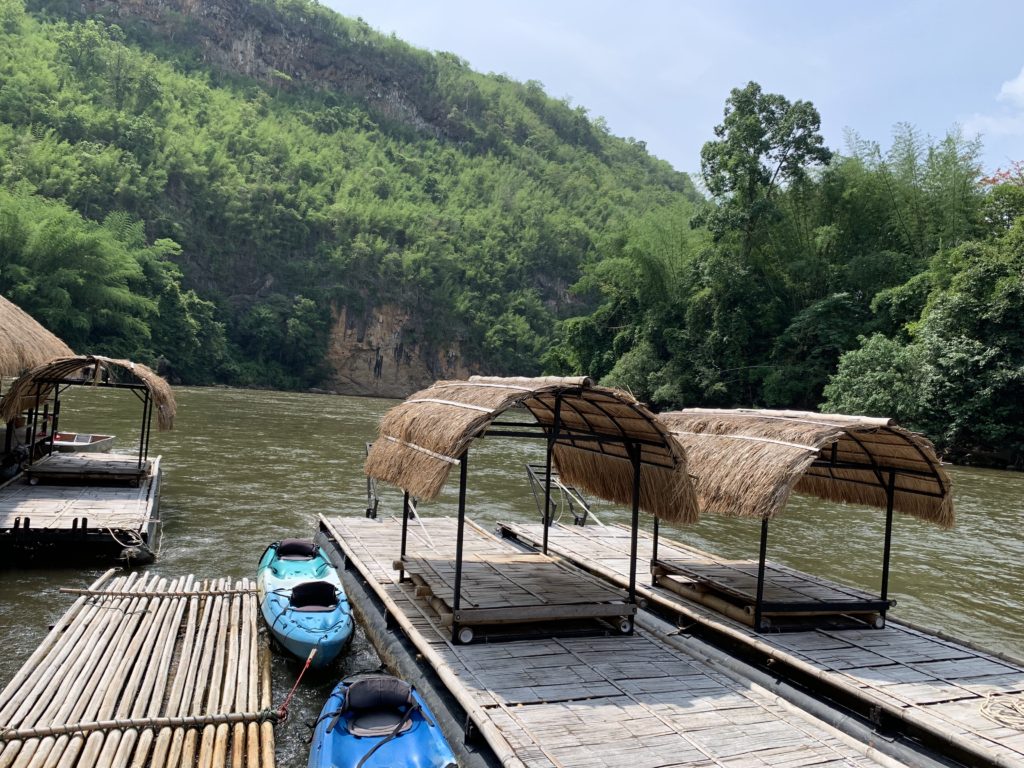 River Kwai Jungle Raft Resort
At the back of the resort, we find a covered path which invites us to climb up bamboo steps into the jungle. The local Mon village is quiet and sleepy and we arrive at a golden temple hidden in the forest. We pass monks performing their morning ablutions, their orange robes hanging to dry in the hot sun.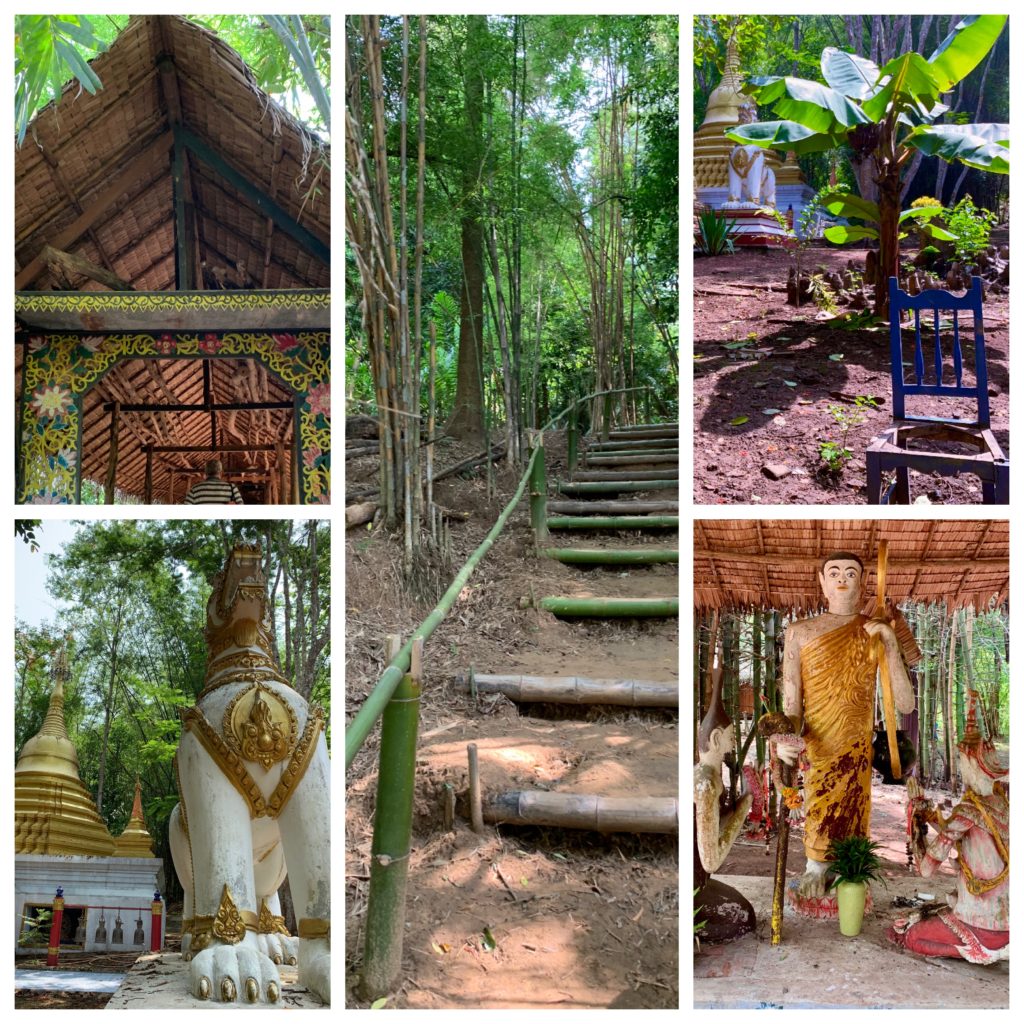 Mon Village Temple
An old blue chair stands proud in front of the temple as if someone else before us has stopped to sit and admire the sights.