A stroll through Bangkok's Chinatown
When talking to Thai people about Chinatown, you will first hear one of two things
When talking to Thai people about Chinatown, you will first hear one of two things: Chinatown or Yaowarat. If what you're trying to do is navigate to Chinatown, calling it Yaowarat is definitely the easiest way to reach your destination, as it is the most common way to refer to the area.
Yaowarat refers to the main road the runs through Chinatown in Bangkok. In Thai language, the name of this road means "young king", and was named in honor of Prince Vajirunhis, the first crown prince of Thailand who was also the first son of King Rama V.
Chinatown in Bangkok, similar to other Chinatowns all over the world, is known to be hectic and illuminated by brightly colored signs in Chinese language at night. However, amidst all of the traffic— both foot and car — there are plenty of ways to get lost in the charm of this area. In doing so, there is also a variety of experiences to have. Here's a brief rundown of some highlights of Yaowarat.
1. A brand-new train station
In 2019, the subway system in Bangkok (known as the MRT) finally made Chinatown much more accessible by opening a station right in the heart of the district, at Wat Mangkon station.
Wat Mangkon Train Station
The shiny new train station makes visiting Yaowarat easy, as it removes the hassle of Bangkok traffic. This station is notable for being one of the most beautifully decorated MRT stops in the city. Throughout the entire terminal, there is traditional Chinese artwork, as well as advertisements that are decorated to match the same style.
Train Station
2. Storefronts and shophouses
When strolling through Chinatown, it's hard to miss the large variety of storefronts and antique-looking and shophouses, also known as or 'dtuk taew'.
Each of these spaces has an eclectic mix of things inside, such as personal art collections and tools that are used to perform all types of work, from woodworking to film processing and serving food to selling gold.
Though many of the shophouses in Chinatown may look abandoned, if you hang around for a bit, you'll likely see someone come out and roll up a steel door, revealing a whole new world behind what looks otherwise empty. These antique-looking spaces are abundant in the Yaowarat area and give this part of town the unique look and feel that is easy to distinguish when looking at untitled photos of Bangkok.
Storefronts and shophouses
Storefronts and shophouses
Storefronts and shophouses
Storefronts and shophouses
Storefronts and shophouses
Storefronts and shophouses
Storefronts and shophouses
3. Chinatown Gate + Wat Traimit Withayaram Worawihan
At the easternmost part of Chinatown, often referred to as the "entrance" of Yaowarat, is the symbolic Chinatown gate. The structure is painted a bright red and, depending on the time of day that you are visiting, the gate sits in the shadow of Wat Traimit Witharam Worawihan - or simply called Phra Sukhothai Traimit.
This temple is home to a 5.5-tonne gold Buddha statue and the top of the structure, which is also gold, has a very prominent spot in the skyline of the Yaowarat area.
4. Streetfood
Chinatown, like much of Thailand (both in Bangkok and otherwise), has tons of street food options, ranging from snacks like nuts and fruits to traditional Thai street food, such as Pad Thai. There are also many shops selling traditional Chinese herbs in the form of loose leaf teas that you can take home and prepare yourself, as well as pre made herbal drinks that you can purchase streetside.
One staple of the street food scene in Chinatown is fresh seafood, and on most afternoons (including weekdays), the streets and sidewalks in the area are packed with people eating it fresh off of the grill.
5. Birds Nest/Sharkfin
Though there is some controversy about the shark fin soup and whether or not it is genuine, the fact remains that it is widely advertised and available in Yaowarat.
Additionally, birds nest soup is also very popular in this area and, if it is of interest to you, there are plenty of shops serving it within a 5-minute walk from the Chinatown Gate.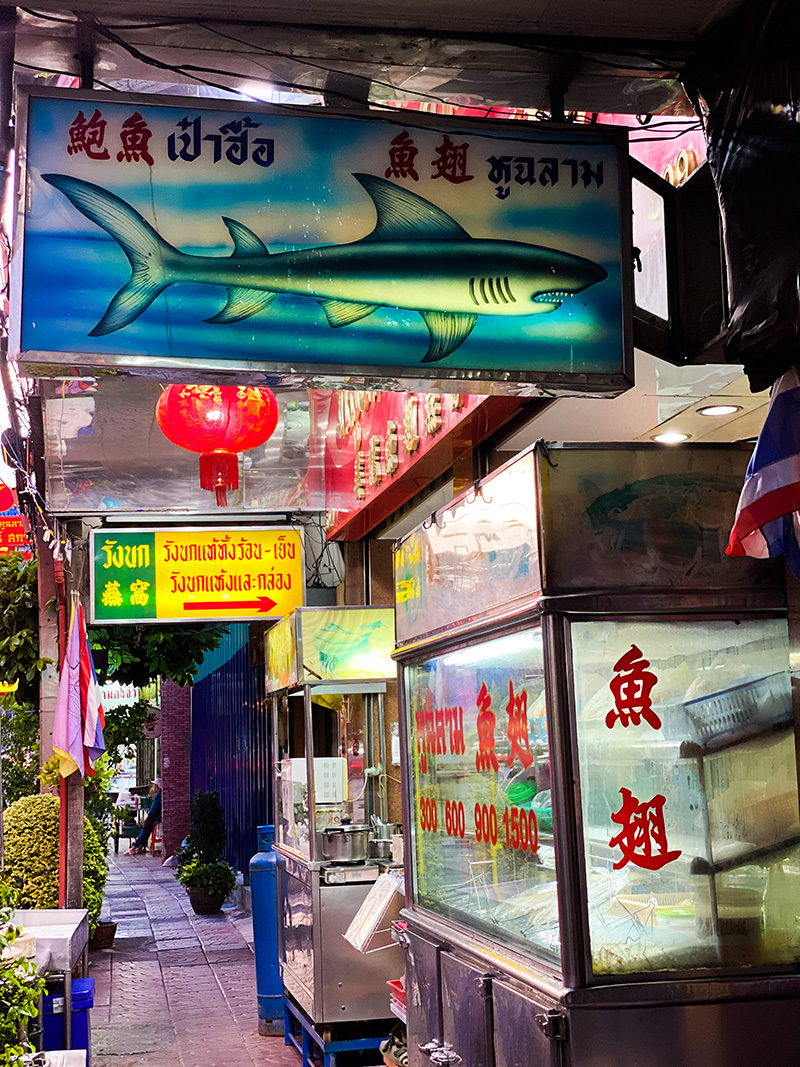 6. Kwang Tung Shrine & Chao Mae Kuan Im Shrine
Both of these shrines are small and free to visit, and on most days (except certain religious holidays) are open to the public.
Remember to remove your shoes if you step inside and be respectful of the people who are there to pray.
7. Bonus: The Shot
A newcomer to the (somewhat small) bar "scene" in Yaowarat is a place that is great for mini-golf and for cocktails. It's called The Shot, and for 300 THB (approximately 9 USD), patrons get a drink and unlimited mini-golf.
Its interior design is kind of dark and the entrance is tucked away on Soi Yaowarat 11, but once you navigate up the narrow staircase you'll be pleasantly surprised by the full bar and functional mini-golf course area, a well as the many murals on the brick walls that are accented with dimmed red lights.
Though the fusion bar + social gaming space is not exactly what is expected in an area like Chinatown, the look and feel of the establishment really makes it fit into the neighborhood and defines it as a new point of interest for socializing Thais and expats. It serves as a much-welcomed spot for tourists checking out Chinatown for the first time, as well.