Wat Paknam and the emerald-glass pagoda
Wat Paknam, known fully as Wat Paknam Bhasicharoen, is unique for many reasons.
Wat Paknam, known fully as Wat Paknam Bhasicharoen, is unique for many reasons.
For starters, Wat Paknam is a royal temple that dates all the way back to the early 1600s. Located in Bangkok's Phasi Charoen district, it was, until recently, difficult for anyone without a car or motorbike to visit because it wasn't very close to any public transportation. However, in 2013 a station on the BTS Skytrain opened at Talat Phlu, making a visit to the temple a lot easier for tourists.
Referring to the temple's position, which is situated on a small canal that connects to the Chao Praya River, Paknam simply means 'lock in canal' in the Thai Language. When visiting, you'll notice that arriving at the temple requires going through a series of small side soi and crossing tiny bridges that cover khlongs snaking through the area. So, in some way, it feels hidden as a result.
Until the last couple of years, the feeling of Wat Paknam being burrowed was supplemented by the lack of bright lights showcasing its beauty at night. The main pagoda is a simple white structure, and there are no protruding buildings that are noticeable in the distance.
However, that has changed more recently, as a giant golden Buddha is being built on the property. The structure itself is still unfinished but can be seen from far, far away.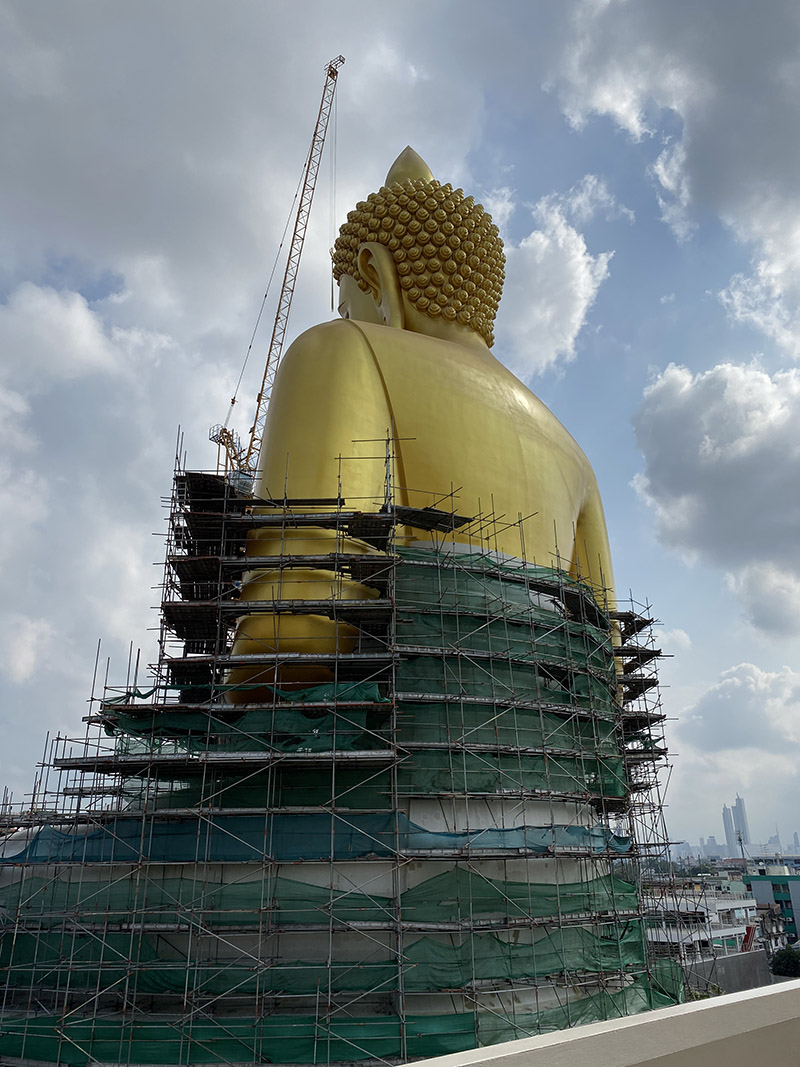 The Wat Paknam complex is home to many monks and mae chi (nuns), as well as students studying during the regular school season. A well-kept collection of Buddhist art and relics is displayed throughout the temple complex, which measures 32,000 square meters (7.9 acres) in total.
Arguably the most beautiful part of any visit to Wat Paknam sits on the top floor of the main pagoda. On this floor, there is the "grand pagoda"- a stunning emerald-glass replica of Wat Paknam, as it looks from the outside. It sounds strange, yes, and even describing it with words is complicated- but it is one of the most beautiful structures at any temple in Bangkok.
Complimented by a very well-kept ceiling mural, the grand pagoda is surrounded by marble floors and glass doors, which are often kept open to allow the breeze to flow through the room. Many people come here to pray and meditate, though it is appropriate for visitors to take photos in the room.